Wow!!! here I sit by the pool at the world famous Santa Domingo Hotel. This hotel is built amongst the ruins of a 16th century convent. It is without a doubt the most beautiful place I have ever seen. The mixture of ruins, art, flowers, candles, parrots and volcanoes in the background make you want to pinch yourself to see if you're dreaming. I can't even conjure up how there could be a more beautiful place. This hotel is an absolute must stop for those who seek the best. I am even going to put the Hotel Santa Domingo first on my top 10 list.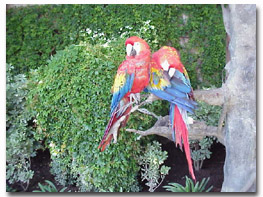 I have tried to walk around here and take some pictures but they just can't seem to capture how truly spectacular this place is. I'm so glad that Bonnie and Joe are here with me. Otherwise, no one would have believed just how incredibly spectacular this place is. Let me back up. A lot has happened in the past 4 days.
Bonnie made it through her scuba certification class. We arrived in Utila and within 1 hour she was attending her class and I was scuba diving. Within two hours of Bonnie completing her class we were on a plane headed off the island. How's that for timing? The plane off the island of Utila landed on a runway filed with rather large rocks and a few tourists who rather non chalantly ambled across the runway. Bonnie and I had the small plane to ourselves. We were the only tourists on board. The flight off the island only took ten minutes so for those 10 minutes we felt pretty cool on our own private plane.
We took a bus to San Pedro Sula and crashed at rather seedy hotel. We arrived late and had to get up early so I figured no need to spend a lot on a hotel room. The drawback was Bonnie and I itched for the next 4 days. We hoped it was just too much sun but we both knew deep down that there was something rather funky about the mattress at the hotel. Something unspeakable. But the itching and scratching has stopped and all is well.
We arose at 6:00 am and took a bus back to the city of Copan. We had a four hour wait until our bus departed for Guatemala city. I found an internet café that would let me hook up my laptop so I published the digital pictures I had taken so far. I just found another internet café here in Antigua so I'll publish the pictures from the last 4 days. Our bus left Copan at 2:30pm and was scheduled to arrive in Guatemala City at 7:30. We had hoped to pick up Joe at the airport and then find a way on to Antigua. Upon our arrival into Guatemala City our bus driver dropped off the other passengers at their hotels and then took us straight to the airport. I chatted with the bus driver most of the way to Guatemala and I learned that he lived in Antigua. After he was going to drop us off at the airport he was going to drive home. Hmmmmm… Seemed like we could catch a ride with our bus driver if he was game. He was. So we picked up Joe at the airport jumped back into our bus and within 5 minutes were on our way to Antigua.
We arrived in Antigua late at night and checked directly into the hotel Arlene and I stayed at in November. It was called Casa Azul. It is a beautiful hotel painted a washed out blue and red. There were candles and art and music in the air. I was so excited to show Joe and Bonnie the place. We then walked to the main square where there was a magical church all lit up and mariachi band was playing music by a wonderfully lit fountain. The scene was so great we could hardly stand it. We were all tired so we hit the sack early and were excited about exploring the city in the morning.
We got up early and had breakfast at our hotel. It was included in the price of the room. We sat outside our room at a courtyard gazing off into the distance at a large volcano. The city of Antigua is without a doubt one of the most interesting and aesthetically pleasing cities I have been to.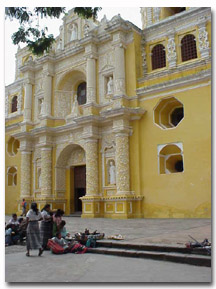 There is something about all the colors, ruins and Mayan Indians walking around that makes for a surreal setting. We just kind of wandered about and found ourselves in one of the best markets I have ever been too. There were hundreds of vendors. Mostly Mayan Indian old women and men. There was fruit, spices, flowers, art, just about anything you could think of they were selling. On my last trip through Antigua I somehow overlooked this market. I went all over Guatemala looking for a market just like the one in Antigua. I snapped about a gazillion pictures. Hopefully some of them will come out.
The last time I was in Antigua I had heard about the Hotel Santa Domingo. I had heard that it was one of the best hotels in the world and that it was built amongst the ruins. I didn't see the hotel on the last trip but I wanted to. Bonnie, Joe and I decided to go explore it. Just to see what it was like. When we walked in and across the courtyard we were speechless. We could hardly believe such a place existed. I headed straight for the concierge and asked if there were any rooms. There were and I booked us in straight away for two nights. We had dinner last night in the most beautiful courtyard filled with candles on the walls, flowers everyone and musicians strolling about. We can hardly bring ourselves to leave this place.
So here I sit by the pool getting caught up on my journal and again pondering how there can be so much beauty in the world.
Take care for now!
Group Hug!
Dave :-)